Present since the beginning of time, the mirror has reinvented itself over the years. Changing its mode of manufacture, are style of manufacture or framing, it does not cease following the tendencies. In the heart of our decoration, find here some ideas to install your mirror at home.
A large mirror in front of a door to extend a room.
A mirror, in addition to being a decorative piece, can easily change the perspective of spaces. Placed in front of the door, it will reflect the entrance of the room (and the incoming light) to give you an impression of grandeur.
Staggered for a trendy decoration.
The great trend of the last few years, make your wall in mirror. A combination of several mirrors, of different sizes and shapes, allows you to decorate a complete wall while leaving it as bright as possible.
In front of a window for a light effect.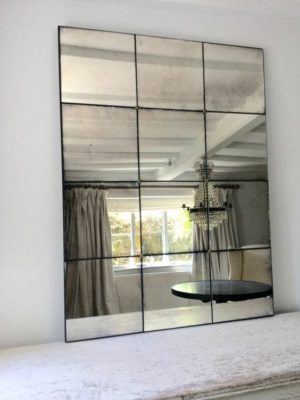 Placed in front of a window, your mirror will reflect the light and diffuse it throughout the room. It is also a trick to enlarge the chosen room, the mirror gives an effect of size and deceives the human eye in relation to the dimensions.
The favorite of the interiors.
This year the favorite of the interiors is the round mirror. Placed in the bathroom, in the bedroom or in the living room, we find it everywhere!
Often simpler than a classic mirror, with no frames or moldings, the darling of interiors is presented in its most neutral form possible.