Looking for the perfect light fixture or fixtures for your interior design? This article may help you find it. At the same time, discover our collection of antique lighting.
Dressing up a room with lighting.
As well as being a useful everyday object, lighting can also change your entire interior design. A colorful chandelier in the midst of a white and beige bohemian decor will create a sensation.
You can also use the different materials to play with accumulation and the different textures brought to your decor.
If your ceiling is very high and you don't know how to dress it, place a magnificent antique chandelier or a beautiful antique hanging lamp to reduce the void and occupy the space.
Choose the right light intensity.
Living room, dining room :
Moderate-intensity light is recommended for a subdued, less electric ambience. However, if you want a strong light, you can opt for a strong yellow light (or cold white, for those who prefer it).
Suspension above the dining table is preferable for this room.
Salon :
Here, yellow light is highly appreciated. A subdued atmosphere for an evening of television or cocktails around the coffee table.
A combination of several lights is very trendy, but hanging lights should be avoided in this room.
Bathroom :
For the bathroom, strong, cool lighting is necessary if you don't want to end up with a hole in your beard or a whole palette of blush on your cheeks.
Here, you can do as you please, combining various lighting fixtures or ceiling spotlights - the choice is yours!
Room :
For the bedroom, subdued light is essential. Whether it's 10 p.m. or 6 a.m., you don't want to be assaulted by overly bright lighting?
Opt for a pair of wall lights above the bed, or a hanging lamp in the middle of the room. You can also add one or two table lamps for decoration.
Watch out for the faux pas.
Lighting kits and sets, for modern decorating: it's all about mismatching. Putting the same sconces and pendant lights all over the house won't do it justice. An old-fashioned look guaranteed!
You can, however, play on the same shapes or color tones, but not both at the same time if you want something harmonious and trendy.
One of the most popular pieces of advice is to choose your lighting after you've done all your decorating, so that it goes with it. In fact, you can either opt for this option, or build your décor around your fixture. Either way, you know the two will match perfectly.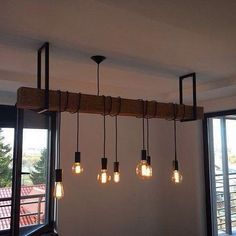 400,00

€

/ piece

2 En stock